The Stanclift Carvers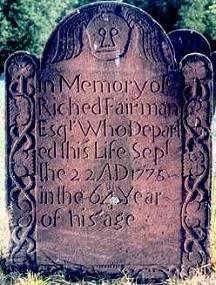 The Stanclifts were one of the earliest and most influential of the carving families of the lower Connecticut River Valley. Their work extends from the late 1600s into the nineteenth century and includes five generations of carvers. The various Stanclifts worked in sandstone; that used for stones in eastern Connecticut came from their great quarry in Portland. The Stanclift genealogy can be confusing because of the number of James Stanclifts engaged in the gravestone trade.
James Stanclift I ( ?-1712) came to Connecticut from England via the island of Nervis in the West Indies, where he was indentured for four years. He arrived in Lyme, Connecticut about 1684 and moved to what is now Portland, Ct. In 1689 where he worked as a mason and stone cutter until his death. The Stanclift family owned and operated the brownstone quarry in Portland for many years.
James I stones sometimes cannot yet be distinguished from some of the work of his eldest son William. For the most part they are distinguishable by the tented line he placed at the top of his letter "A." He carved in large capital letters on stones that usually have evenly rounded tops rather than the lateral "shoulders" that were so characteristic on most New England gravestones. James I's earliest dated stone is for Renold Marvin in the Duck River burying ground (Old Lyme) and is backdated to 1676. The stone for Rebecca Minor (1701) in Wequetequock (Stonington) is the farthest east in Connecticut any of his stones have been discovered.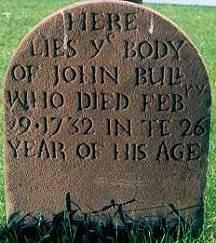 William Stanclift (1686-1761) was the oldest son of James I. Like his father he carved in capital letters, and some of his stones also have evenly rounded tops. William's stones are distributed throughout the Connecticut River Valley and into Massachusetts.
James Stanclift II (1692-1772) was a younger brother of William. He appears to have begun active carving rather late in life. His stones resemble those of William in that he used simple rosettes in the finials of his small sandstones. The rosettes of James II tend to be flat compared with the rounded surfaces of William Stanclift rosettes. James II never used capital letters in his legends and this together with his "flat" finial rosettes will served to distinguish at least most of his work.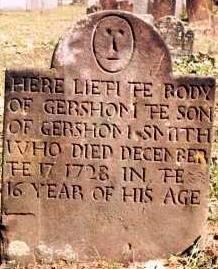 James Stanclift III – James II has two sons that became stone cutters. Of these Comfort is not known to have produced stones east of the Connecticut River. James III, however, did carve many stones that remain in the old burying grounds in the lower reaches of the eastern side of the Connecticut River. A clear definition of the limits of his work remains to be done.
James Stanclift, Jr. This James was the son of William and thus of the same generation of James III and Comfort. His work is common in the Simsbury and Southington regions of western Connecticut and on into Woodbury county. His peculiar heavy-jawed cherubim are quite characteristic.